So much for reading! Remember when I said I wanted to read biographies this year? Well I started one on Harper Lee and that's as far as I got. I haven't read much of anything, not even pregnancy books! But thanks to netflix and to movies you can watch online at anytime and to the fact our computer is hooked up to our new TV and to my sinus infection, I have watched a lot of documentaries. I abosolutely love them. Usually they have really intriguing and sometimes down right strange people in them and they're educational!! Sometime they educate you on silly subjects but who cares! Knowing is half the battle right G.I. Joe? So in random order, here are some I've seen in the past few months:
In the Realms of the Unreal is about the life and work of Henry Darger, a recluse janitor from Chicago who lived a troubled childhood and may have had a social disorder. Only after his death in the 70's was his 15,000 page novel with hundreds of art pieces to go along with it found in his apartment. They movie combines narration from his own autobiography along with the text and animated artwork from his paintings. This was a very touching film and I really want to see his art in person. It's in the folk museum in New York right now so if I pay dear Erin a visit before I get too fat to fly then I can!
Helvetica is a movie about the origin of Helvetica font and other fonts. It was a bit boring at times and I felt like I was in college again watching an O'Keefe special but still interesting. I never knew people had such strong feelings about fonts! I mean I do tend to judge people who overuse things like Papyrus and Curlz but I mean these people correlate certain fonts with Vietnam supporters and have very harsh emotions about them. It also shows you how the creation of fonts has evolved. If you hate typography then don't watch this.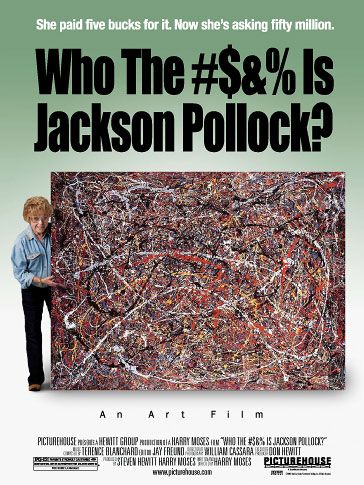 Who the &%*$ is Jackson Pollock is a hilarious film about a truck driver lady who finds a painting at a thrift store for cheapo and someone tells her they think it's a Pollock painting. She spends YEARS trying to prove that it is and goes as far to get forensic evidence, but the snobby art community looks down upon her and the painting for lack of provenance. It's a funny film but also a good look into the art business and how frustrating it can be.
The Business of Being Born is a film that looks at maternity care today in our hospital system verses midwife home births. It also gives a lot of the history of the two and is very interesting especially to a pregnant lady like me. I will go as far to say I think all pregnant people and their spouses should watch it. Otherwise unless you're intrigued you don't have to :)
American Movie is something teenagers should watch to help them stay off drugs. It has absolutely nothing to do with drugs but is about these wacky guys in Wisconsin who have been trying for quite sometime to finish an indie horror film called Coven (which they can't even pronounce right). They are drunk and stoned most of the time and mooch off of their poor 80 year old dying uncle in a trailer park to keep the movie afloat. Nuff said.
The King of Kong is about 2 grown men's quest to be the best at Donkey Kong (the original arcade game) It's truly one of those films that gives you a glimpse at some "interesting" characters of the world. It's a cut throat competition and actually will make you mad at times how evil and silly people can be...while still entertaining you as you die laughing.
Man on Wire is a new Oscar winning film about the tight rope walker who successfully (and illegally) walked between the twin towers. It shows the planning that went into the feat and the repercussions afterward. I watched it awhile ago and if my memory serves me correctly it is in French so you have to read the subtitles, but still good.